QF's Al Shaqab Gears Up To Host Two World-Class Equestrian Events
Publication Date:

17/02/21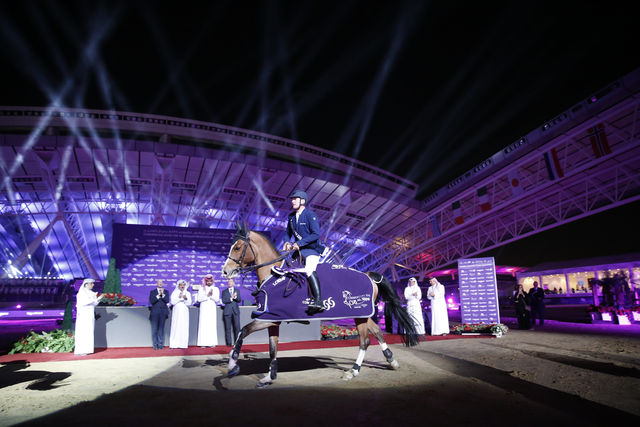 Doha, Feb 17 –Al Shaqab, a member of Qatar Foundation, is gearing up for a feast of breathtaking equestrian sport, with two world-class international events taking place on consecutive weekends at the iconic Longines Arena at Al Shaqab.

The first, from February 25-27, is Al Shaqab's signature equestrian event – Commercial Bank CHI AL SHAQAB Presented by Longines 2021. The premier international equestrian competition, which will be organized and hosted by Al Shaqab for the eighth time since it was created in 2013, has evolved to become one of the highlights on the global equestrian calendar.

The prestige associated with CHI Al SHAQAB, and its exemplary organization, has also attracted the finest local and global sponsors and partners: The Social & Sport Contribution Fund (Daam) has been named this year as the Supporter of the event; Commercial Bank is the Title Sponsor; Longines is the Presenting Partner; and ExxonMobil is the Main Sponsor.
Commercial Bank CHI AL SHAQAB Presented by Longines 2021 will be followed by the first competition of the 2021 Longines Global Champions Tour (LGCT), from March 4-6, also at the Longines Arena at Al Shaqab. The world's leading five-star showjumping competition, which will take horses, riders and spectators to 15 major cities worldwide, kicks off the new LGCT season in Doha.

Equestrian fans will be hoping for a repeat of last year's thrilling competitions, which saw Germany's Daniel Deusser ride Killer Queen to a magnificent double victory, winning the Grand Prix at both Commercial Bank CHI AL SHAQAB Presented by Longines and the LGCT first leg.
In line with the Ministry of Public Health's COVID-19 health and safety guidelines, the venue capacity will be restricted to 10 percent. Tickets can be purchased at the venue on events days. As a further precautionary measure, there will not be a Festival Area this year.
Khalifa Al Attiya, Executive Director, Al Shaqab, and Vice Chairman, Supreme Organizing Committee, Commercial Bank CHI AL SHAQAB Presented by Longines, said: "Al Shaqab is proud and delighted that CHI AL SHAQAB and LGCT will once again take place in Qatar, as these popular global equestrian events showcase Al Shaqab as a premier competition venue bar none. They also bear testament to
Qatar's position as an international sports destination, and its ability to organize world-class events despite the challenges posed by the COVID-19 pandemic.
"Ultimately, the health and safety of spectators and participants remains Al Shaqab's highest priority, and MoPH COVID-19 precautionary measures will be strictly enforced to ensure the safety and well-being of riders, equestrian fans, and all who are involved with the events."
ENDS//
Al Shaqab – A World-Class Facility
Since its establishment in 1992, Al Shaqab's vision was to build on Qatar's Arabianhorse heritage and be a leading global center for equine professionals, whileproviding an engaging experience for the community. Global leadership has not onlymeant preserving, improving, and promoting the Arabian horse breed, but alsoencouraging the community in this unique, traditional cultural sport.
Today, Al Shaqab's impressive facilities, which are distinctivelydesigned in theshape of a horseshoe, cover 980,000 square meters. With a state-of-the-art MainArena comprising both an indoor and outdoor venue capable of holding over 5,000spectators, Al Shaqab is part of Qatar's growing reputation on the world stage thatshowcases its ability to host major international sports event at the highest level.
For further details please visit www.alshaqab.com
Qatar Foundation – Unlocking Human Potential
Qatar Foundation for Education, Science and Community Development (QF) is a non-profit organization that supports Qatar on its journey to becoming a diversified and sustainable economy. QF strives to serve the people of Qatar and beyond by providing specialized programs across its innovation-focused ecosystem of education, research and development, and community development.
QF was founded in 1995 by His Highness Sheikh Hamad bin Khalifa Al Thani, the Father Amir, and Her Highness Sheikha Moza bint Nasser, who shared the vision to provide Qatar with quality education. Today, QF's world-class education system offers lifelong learning opportunities to community members as young as six
months through to doctoral level, enabling graduates to thrive in a global environment and contribute to the nation's development.
QF is also creating a multidisciplinary innovation hub in Qatar, where homegrown researchers are working to address local and global challenges. By promoting a culture of lifelong learning and fostering social engagement through programs that embody Qatari culture, QF is committed to empowering the local community and contributing to a better world for all.
For a complete list of QF's initiatives and projects, please visit:www.qf.org.qa
For any media inquiries, please contact: pressoffice@qf.org.qa
Back to News listing
DISCOVER
AL SHAQAB
AL SHAQAB AIMS TO PROVIDE AN EDUCATIONAL AND CULTURAL EXPERIENCE TO ALL PERSONS IN QATAR.