World's best riders descend on Doha for Commercial Bank CHI AL SHAQAB Presented by Longines
Publication Date:

24/02/21

Category:

CHI Al Shaqab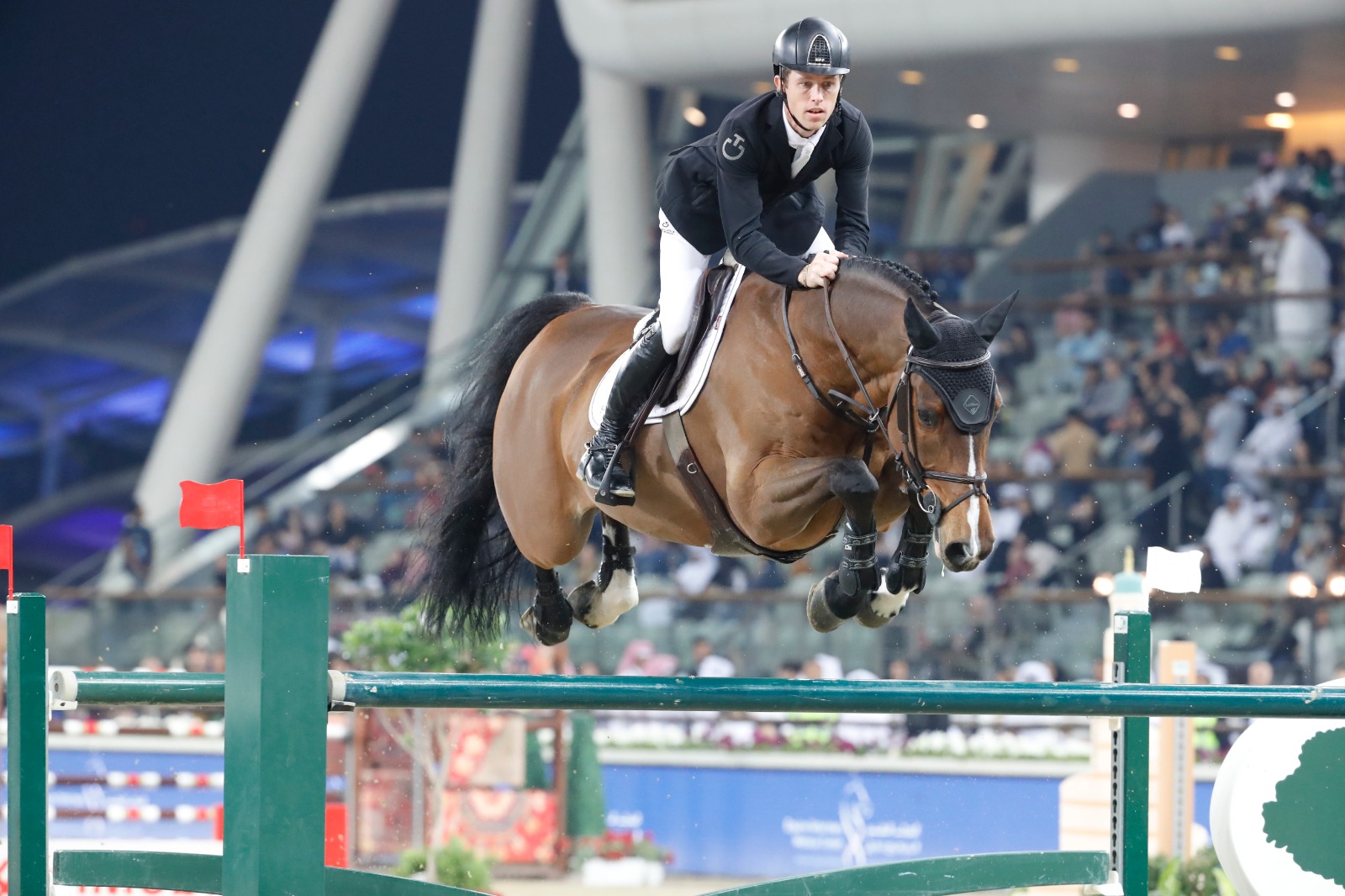 A star-studded contingent of 85 riders from 27 countries around the world has descended upon Doha to compete in the spectacular Commercial Bank CHI AL SHAQAB Presented by Longines 2021 event, which will be held at the Longines Arena at Al Shaqab, from February 25-27.
In addition, 138 horses have arrived in Qatar's capital city to take part in the world-class international equestrian competition.
Al Shaqab, a member of the Qatar Foundation, is organizing CHI AL SHAQAB for the eighth time, and the much-anticipated event will again see riders participate in the Olympic disciplines of showjumping, dressage, and para-dressage.
Sweden's Peder Fredrickson, ranked number four in the FEI Longines Jumping Rankings, headlines the riders' list, while Olympians and former CHI AL SHAQAB winners Edwina Tops-Alexander (Australia) and Scott Brash (Great Britain) make welcome returns to Doha. Flying the flag for Qatar will be local rider Sultan Salmen Al Suwaidi (showjumping).
At a press conference held at Al Shaqab on February 23 to launch the event, Omar Al Mannai, Event Director, Commercial Bank CHI AL SHAQAB Presented by Longines, and Commercial Manager, Al Shaqab, said: "Once again, this amazing event has managed to attract globally respected champion riders and horses to Doha. They love to compete at Al Shaqab, and it shows in the number of riders who keep returning for the event. Al Shaqab has truly achieved its goal of developing an equestrian competition that other organizers aspire to and talk about, and that elite organizations wish to be a part of. This is highlighted by the quality of sponsors and partners who are associated with the event."
Commercial Bank is the Title Sponsor; Longines is the Presenting Partner; ExxonMobil is the Main Sponsor, and The Social & Sport Contribution Fund (Daam) is the Supporter of the event.
Joseph Abraham, the Group CEO, Commercial Bank, said: "Commercial Bank is pleased to play our part in Qatar's sporting success story and to support Qatar's national vision of being a world-class sports venue through our sponsorship of this premier competition."
Hussein Ali Al-Abdulla, EGM & Chief Marketing Officer, Commercial Bank, said: "I'm delighted that Commercial Bank will once again be the Title Sponsor of CHI AL SHAQAB. We're looking forward to being a part of a truly exceptional equestrian competition.
"Commercial Bank appreciates the importance of sports in the social and economic development of Qatar, and we are committed to supporting Qatar's vision to be an international sporting hub."
Saleh Al Mana, Vice President and Director of Government and Public Affairs, ExxonMobil Qatar, said: "We're pleased to be sponsoring CHI AL SHAQAB for yet another year and to continue to support Al Shaqab's programs through our partnership, that was established since the center's very beginning.."
"Our collaboration with Al Shaqab is inspiring leadership and life skills among young people that will be extremely important in their future careers, particularly in relation to the Qatar National Vision 2030."
Ahmad Al Ali, Program Manager, The Social Sport Contribution Fund (Daam)said: "Daam is delighted to be involved in this world-class event. Daam's vision is to make a positive difference in the community by supporting social and sports activities such as CHI AL SHAQAB, in alignment with Qatar National Vision 2030.
"We believe that Daam's support and commitment to the development of horsemanship in Qatar will play a role in encouraging young riders to pursue a passion for equestrian sports."
In addition, Al Shaqab is also proud of its long-term association with Longines, which is the Presenting Partner of CHI AL SHAQAB. "This relationship is underscored by the renaming of the competition venue as the Longines Arena at Al Shaqab, which represents the perfect location for the world's best riders and their horses to compete for the ultimate honor of being crowned a champion at CHI AL SHAQAB," said Omar Al Mannai.
A former international-level showjumper and dressage rider who represented Qatar in the 2006 Asian Games, Al Mannai emphasized the importance of para-dressage as a part of Commercial Bank CHI AL SHAQAB Presented by Longines.
He said: " Al Shaqab continues to include this Olympic discipline in the event not only because our facilities are geared to meet the needs of the participants but, more importantly, they are wonderful role models and sources of great inspiration. We look forward to seeing Qatari riders competing in this discipline in the future."
In line with the Ministry of Public Health's (MoPH) COVID-19 health and safety guidelines, the venue will be restricted to 10 percent of its capacity. Tickets can be purchased at the venue on event days. As a further precautionary measure, there will not be a Festival Area this year. Fans unable to access the venue can still catch all the action, as the event will be broadcast live on Al Kass TV and beIN Sports, while it will also be live-streamed on Al Shaqab's website, alshaqab.com.
Al Mannai said: "As an organizer, Al Shaqab is proud of the hard work that has gone into making the event a reality in the midst of a global pandemic. But, more than anything else, the health and safety of participants, spectators, and all involved with the event remain Al Shaqab's highest priority. Therefore, with guidance and instruction from MoPH, Al Shaqab has ensured that all necessary COVID-19 precautionary measures are in place, and will be strictly enforced."
Al Shaqab – A World-Class Facility
Since its establishment in 1992, Al Shaqab's vision was to build on Qatar's Arabian horse heritage and be a leading global center for equine professionals, while providing an engaging experience for the community. Global leadership has not only meant preserving, improving, and promoting the Arabian horse breed but also encouraging the community in this unique, traditional cultural sport.
Today, Al Shaqab's impressive facilities, which are distinctively designed in the shape of a horseshoe, cover 980,000 square meters. With a state-of-the-art Main Arena comprising both an indoor and outdoor venue capable of holding over 5,000 spectators, Al Shaqab is part of Qatar's growing reputation on the world stage that showcases its ability to host major international sports events at the highest level.
For further details please visit www.alshaqab.com
Qatar Foundation – Unlocking Human Potential
Qatar Foundation for Education, Science and Community Development (QF) is a non-profit organization that supports Qatar on its journey to becoming a diversified and sustainable economy. QF strives to serve the people of Qatar and beyond by providing specialized programs across its innovation-focused ecosystem of education, research and development, and community development.
QF was founded in 1995 by His Highness Sheikh Hamad bin Khalifa Al Thani, Father Amir, and Her Highness Sheikha Moza bint Nasser, who shared the vision to provide Qatar with quality education. Today, QF's world-class education system offers lifelong learning opportunities to community members as young as six months through to doctoral level, enabling graduates to thrive in a global environment and contribute to the nation's development.
QF is also creating a multidisciplinary innovation hub in Qatar, where homegrown researchers are working to address local and global challenges. By promoting a culture of lifelong learning and fostering social engagement through programs that
Back to News listing
DISCOVER
AL SHAQAB
AL SHAQAB AIMS TO PROVIDE AN EDUCATIONAL AND CULTURAL EXPERIENCE TO ALL PERSONS IN QATAR.